Advanced Mobile Security Solution
for Business People.
IronTel keeps your mobile business data confidential
all the time, and everywhere you go!
IronTel Mobile is a fully encrypted phone, with the highest level of security, protected by a multilayer mobile security system all the time when it is turned off, turned on, and while communicating online. 
Most Secure Phone for Business
IronTel Mobile provides maximum business data confidentiality by completely isolating business apps from personal apps in separated encrypted storage with a restricted security policy. 
End-to-End Encrypted Data
IronTel Mobile encrypts end-to-end text, voice calls, video calls, and file transfers for the best privacy. IronTel Mobile activates VPN encryption for utmost protection against hackers and eavesdroppers.
Mobile Device Security Solutions
IronTel multilayer security system monitors and defends your mobile device in real-time. It protects from cyber-attacks carried on by attached forensic systems to break into device chipsets even when turned off. When turned on, the security system prevents the boot and kernel systems from being exploited to compromise the device. IronTel security system protects as well from online hackers' intrusion. IronTel implements Knox of Samsung, and Harmony Mobile of Check-Point, the best multilayer security suites for business mobiles. Read More >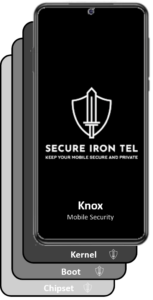 End-to-End Business Data Encryption
Business data is always encrypted end-to-end, via the secure ConfiTel app (preinstalled in the 'Work' area), when communicating with another secure IronTel Mobile partner only. ConfiTel app end-to-end encryption prevents eavesdropping on all of your confidential conversations. ConfiTel app users form a private network, disconnected from social networks.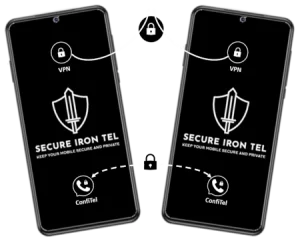 IronTel VPN is encrypting all business mobile applications' data (in the 'Work' area) for the best privacy and confidentiality when connecting over insecure WiFi and censored cellular networks. VPN encryption protects from WiFi Man-In-The-Middle (MITM) and Evill-Twin  hackers attacks at home, office and public hotspots.
Business Mobile Data Security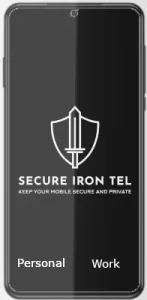 IronTel provides the best mobile security solution for business people by safeguarding their data in a restricted encrypted area. Additionally to its multilayer device protection, IronTel implements the Dual-Persona security system that creates two separate secure space zones, 'Personal' and 'Work'. IronTel lets business people enjoy their personal device apps in privacy and, at the same time, manage their most confidential, valuable business apps data. 1 Device with 2 Phones. Read more >
When both parties are communicating with a highly secure phone (multilayer mobile security), plus VPN encryption connectivity, plus end-to-end call encryption (ConfiTel app), only then can they trust that their call is entirely confidential.
Secure Mobile Device Management
With IronTel's secure mobile device management (MDM) solution, you can remotely wipe all sensitive data from any lost or stolen smartphone. You can also remotely lock/unlock smartphones to help prevent unauthorized access.
Best Mobile Business Phone
IronTel mobile security is built on the newest and most advanced Samsung business-class Android phones with the best performance and stability. Samsung mobile devices are trusted by the leading industries and governments worldwide. 
IronTel is built on the newest and most advanced Samsung business-class devices with the best performance and stability. IronTel devices are updating with the newest features, ongoing improvements, and, most important, the latest security updates against mobile cyber-attacks discovering.